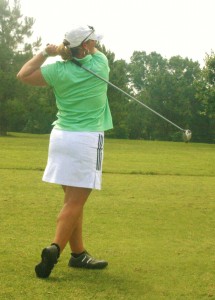 What are you playing in this summer?
We all need a little motivation and structure to get excited to practice and work towards beating our own "personal bests." Whether you are a new golfer, a high school athlete getting ready for the upcoming season or a low handicapper looking to win the club championship you need to create a competitive schedule that tests your skills on a consistent basis. There is no fast-forwarding tournament (competitive under pressure) experience. The more often you put yourself in pressure situations, the more comfortable you will feel under the pressure to perform during competition. Investigate statewide, local and inter-club events and leagues to supplement your practice. I guarantee the additional structure will motivate you week to week to continue to strive to practice to play your best. If you don't provide yourself with consistent reasons for improving, you won't work to improve. It's that simple.
Check your local club's leagues to see if one fits your schedule and competitive level. In Virginia statewide potential events can be found at www.VSGA.org, www.MAPGA.com or www.USGA.org or any of the amateur associations (Easten, Western, Trans, Mid-Am, etc.)
Happy Competing!